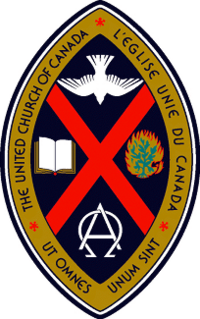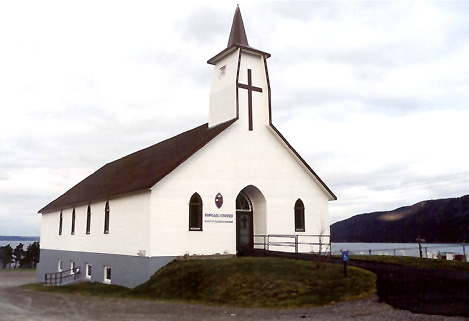 TOPSAIL UNITED CHURCH
"The Church By the Side of the Road"

OTHER CHURCH ANNOUNCEMENTS
EDUCATION: Queen's College is the oldest degree-granting institution in the province. Its mission is to prepare people for ministry, both ordained and lay, and to provide programs to assist people in their spiritual journey. We offer a variety of courses at our St. John's campus, in Clarenville, and by webinar, Skype or correspondence, which count as credit towards a degree, the Associate in Theology designation, or a Diploma in Theology. For more information please see the brochures in the church, check out our web site at www.queenscollegemun.ca , or telephone toll free at 1-877-753-0116
A Workshop on Adapting NL's Historic Religious Places, Thursday, October 26, 2017 (afternoon) - Cochrane Centre, 81 Cochrane Street. Hosted by the Heritage Foundation of Newfoundland and Labrador. Visit www.adaptingheritage.ca for full details and to register.
The Workshop on Adapting NL's Historic Religious Places is part of a larger conference entitled "Adapting Heritage…Engage, Innovate, Rejuvenate!" taking place in St. John's, October 25-28, 2017.

John Sands In Concert: Cowan Heights United Church on Sunday, October 1st at 7:00 pm and see John Sands in concert. "Attending a John Sands concert is as refreshing as it is stimulating" (quoted from Music Today Review). Tickets are $15 each and available at Church Office. For more information call Cowan Heights United Church at 709-745-2871.
COME AND SEE - THE HOLY LAND! Join us as we explore this ancient land so familiar to us in story and song: Jerusalem, Bethlehem and Galilee, as we chat with farmers and their families harvesting their olives as in ancient times, as we talk with Israelis and Palestinians about the realities of their lives in modern times. Join Hope Rowsell and Patricia Mercer, who will be leading a trip to the Holy Land Nov. 14, 2017.

Departure of Our Full-Time Chaplain. It is with gratitude and thanksgiving, along with heavy hearts, that the Chaplaincy Committee of East District announce that Rev. Scott Parsons has completed his work as Chaplain with East District, Newfoundland and Labrador Conference, serving the St. John's Eastern Health sites of Health Sciences, the Janeway, the Leonard A. Miller Centre and Veteran's Pavilion, along with Her Majesty's Penitentiary. Scott has been a very compassionate and caring giver of pastoral care and has been a joy to work with throughout his over ten years in this position. He will be greatly missed. We wish him all God's blessings in his new ministry as Clinician for Eastern Health at Health Sciences and the Janeway.
We do wish to advise that we are actively seeking a new chaplain and that during this time of transition, pastoral care continues to be provided without interruption at all sites. If you or a family member are admitted to hospital, and would like pastoral care or a visit from the chaplain while in hospital, please ensure the admission forms are marked "Yes" for pastoral care and the patient's name will be included on the chaplain's list for visitation.
COUGHLAN COLLEGE TRUST FUND. Coughlan College is offering a trust fund to further and support the education and nurturing of members of The United Church of Canada in Newfoundland and Labrador. The establishment of this scholarship is for awarding of grants to students who are enrolled in a degree program at Memorial University of Newfoundland or a 3-year program at College of the North Atlantic or Marine Institute. Please visit unitedchurch@nfld.net for an application.

The Manotick Brass Ensemble will be visiting Newfoundland September 15 to September 25, performing at St. John's, Dildo and Bonavista. The ensemble's first concert will be at 7:30 pm at George Street United Church in St. John's. For more information contact Martin Luce at 613.822.8749 or martin@manotickbrass.com.
This year, Mugs & More Women's Ministry will be hosting a Women'

official closing service of Queen's Cove United Church: Please note that the official closing service of Queen's Cove United Church, Hillview Pastoral Charge, will take place on Wednesday, September 27, 2017 at 2:00pm. We would invite you, if you are able, to come and share in this time with them and to hold them in your prayers as they move forward into a new ministry.
s Weekend, Friday-Sunday, Nov. 3-5th. The Rev. Linda Pike will lead a number of sessions on Spirituality – Body, Mind & Soul. For further information, you can phone Rev. Sellars at 709-288-0340, e-mail him at RevSDean@outlook.com, visit website carolunitedchurch.weebly.com

The covenanting service for Hant's Harbour Pastoral Charge, the East District and Ms. Joan Brinston will take place on Sunday, September 24 at 2:30 pm at Sibley's Cove United Church.
The covenanting service for Green's Harbour Pastoral Charge, the East District and Rev. Joan Conrad will take place on Sunday, October 29 at 2:00 pm at Whiteway United Church. All are welcome to attend.

NEWFOUNDLAND & LABRADOR CONFERENCE FALL LEARNING EVENT: Oct. 13 – 15 at Fraser Road United Church, Gander. "The Art of Stewardship: Generosity, Giving & Gratitude. We are pleased to have with us for this event the Moderator of The United Church of Canada, the Rt. Rev. Jordan Cantwell, who will be the guest preacher at the closing worship. Also, special guest speakers: David Armour, Director of Philanthropy/President of United Church of Canada Foundation; Cheryl Curtis, Manager, Mission & Service Giving; Susan Graham Walker, Manager Congregational Giving & Stewardship; and Roger Janes, Stewardship & Gifts Officer, Atlantic Region. The $200 registration fee includes two nights shared hotel accommodations, meals, nutritional breaks, and program materials for the event. If registration cost is an issue, please let us know